* Linda's blog for old document transcription & translation *
A conversation with my Mother has prompted this blog post, and hopefully several more will follow over time.  We were discussing the Blennerhassetts, my maternal grandmother being of that name.  My cousin has shared on-line his study of the family, an undertaking of huge proportions.  On the home page (www.blennerhassettfamilytree.com) he states:
"WHO WERE THEY?
They were gentry, farmers, craftsmen, miners, engineers, medics, nurses, lawyers, teachers, clergy, soldiers, seafarers, police, writers, poets, painters, musicians, cottiers, farm labourers, servants, paupers…  Four were knighted, one created Baronet of Blennerville in Co.Kerry. They were politicians, appointed or elected Councillor, Bailiff, Sheriff, Mayor or Member of Parliament in both England and Ireland."
There are indeed a great many characters among these families, and I thought I might let them lead me into areas of history to me unknown or unfamiliar (or to occasions that may seem familiar but about which I know little).
Where to start?  How to select my travelling companion for today?  It was by chance that my choice fell to James Primrose Blennerhassett, born in Hampshire in 1785 to Lt. James Blennerhasset R.N. and Isabella Primrose.  I have always felt sympathy for this man, especially as a youngster, surely he could not escape teasing with a name like that.  This is not intended as a biography of James, rather he is our travelling companion and guide to this particular period of history.
At the age of 15 James joined the Royal Navy as a volunteer on HMS 'Pomone' under Captain Robert Carthew Reynolds and Captain Edward Leveson Gower.
'Pomone' was a 40-gun 24-pounder frigate of the French Navy built in 1783. The British captured her, along with Babet and Engageante, off the Île de Batz during the Action of 23 April 1794.  She was subsequently re-commissioned in the Royal Navy as HMS 'Pomone' mounting 48 guns.
In 1794, officer's servants were abolished and a new class of volunteers called 'Volunteer Class I' was created for boys between the ages of 11 and 13 who were considered future midshipmen and who lived in the gunroom on a ship-of-the-line or with the midshipmen on a frigate or smaller vessel. By 1816 the rating of 'midshipman ordinary' was phased out, all apprentice officers being rated as midshipmen.
This was an exciting (and dangerous) time to be in the Navy, the French Revolutionary Wars followed very swiftly by the Napoleonic wars ensuring there was plenty of action for a young man on one of her Majesty's ships.
HMS 'Pomone' had been active the previous year, capturing 6 ships, heading back to Plymouth for a refit in April 1799.  In August 1801 the 'Pomone' was cruising off Elba and under the command of Captain Edward Leveson-Gower took another prize, the Carrere, 44 guns and 356 men.  'Pomone' lost two men dead and three wounded, one of whom died of his wounds shortly after.  September also saw more action with 'Pomone', 'Phoenix' and 'Minerve' engaged in the successful recapture of 'Success' and the destruction of the 46 gun frigate 'Bravoure'.  Men from the 'Pomone' were also involved in operations ashore on Elba.
In April 1802 young James and his shipmates were escorting a convoy in the Mediterranean before returning to Portsmouth on the 16h July, perhaps getting a little shore leave, before sailing once more on the 23rd July with a number of other ships to collect Dutch troops to carry to Cuxhaven.
Two months later disaster befell them when the 'Pomone' struck a rock whilst entering St Aubin's Bay and sank.  She was refloated and towed into Portsmouth in October but was pronounced not worth repairing.  The unfortunate pilot, John Geram, was tried by court martial and along with fines was sentenced to three months imprisonment in the Marshalsea.
By the Napoleonic era a midshipman was an apprentice officer who had previously served at least three years as a volunteer, officer's servant or able seaman.  By March 1803 James was just two months shy of this three year term, and we find him signed on as midshipman on HMS 'Tonnant' an 80 gun captured French ship built in Toulon and launched in 1791.
'Tonnant' was built of Adriatic Oak, and the superior durability this gave her was highly valued.  She was captured by Admiral Nelson at Aboukir Bay in August 1798.  Her name, meaning 'Thundering' in French, remained unchanged, and was well earned during that last battle under French command, severely damaging HMS Majestic and causing nearly two hundred casualties, including 50 killed.  Aristide Aubert Du Petit Thouars, who had both legs and an arm shot off, commanded his ship until he died.  'Tonnant' was the only French ship still engaged in the morning, with her colours flying, 'though aground.  It was not until 3rd August that she finally struck her colours and admitted defeat.
She was taken to Plymouth and underwent repairs between December 1801 and April 1803, during this time being 'laid up in ordinary', i.e. in reserve.  She was commissioned in March 1803 under Captain Sir Edward Pellew.
Midshipmen were taken on by a captain generally as a result of 'interest' (or patronage – familial influence).  There was no requirement for approval by the Admiralty, and thus they joined the Navy with no ceremony or remark from that quarter.
Two years as a 'first-class volunteer' or two years at the Naval Academy at Gosport were pre-requisites of becoming a midshipman.
The minimum age for a midshipman in 1790s was 11, but in 1812 this was raised to 13, with the exception of officers' sons who could come aboard at the age of 11.
Instruction in navigation, nautical astronomy and trigonometry was given every morning by a schoolmaster who was also responsible for the behaviour of the boys.  He was almost always the ship's chaplain.  If no chaplain or schoolmaster was on board the captain taught the midshipmen himself.
Reaching the age of 15, and properly rated, a midshipman became known as an 'oldster' and had a pay rise, no more lessons and daily grog allowance.  He moved from the gun room into the midshipmen's berth on the orlop deck.
After 6 years at sea (at least two as a midshipman), and over the age of 19, a midshipman was eligible to take Lieutenant's exam conducted by three senior captains.  He had to show himself skilled in seamanship, navigation, and discipline.   He also needed to possess strength of character, but there was no medical examination.
Without a vacancy in a ship, even though the examination is passed, the successful candidate may remain a midshipman, berthing with the other midshipmen with classification 'passed for lieutenant'.  2000 young men were in this position in 1813.
Once commissioned as a lieutenant his name was added to the Sea Officers List and he was then eligible for half pay when without a ship.
As 'youngsters' (up to the age of 15) midshipmen slung their hammocks in the gun room, with 14 inches being all the space they had for their hammocks, one next to the other.  Older midshipmen generally berthed below the waterline in the stinking, dark and crowded after cockpit.  They had a mess boy whose job it was to keep the berth clean, and 'hammock men' who would lash/stow/unlash the midshipmen's hammocks, in exchange for a glass of grog each Saturday night.  While at sea other seamen would wash their clothing in exchange for more grog or tobacco.  When in port the clothes would be sent to a washerwoman.
Midshipmen wore their hair short, not tied in a queue.  Uniforms, 'though not standardised, generally consisted of a blue tail-coat lined with white silk, ornamented with small gold anchor-buttons, white breeches and a waistcoat.  His hat was similar to a top hat and he wore a black silk handkerchief around his neck.  His shoes were black leather and his shirts of frilled white linen.  In bad weather he had a glazed hat and a watch-coat.
Given the hard service these garments were put to, when they wore out he had to buy clothes from the slop chest.  During a battle he would sensibly wear his oldest, dirtiest clothes, but when a show was required he'd spruce up as best he could.
To 'fit out' a midshipman would cost his parents between £70 and £80 for a home/Channel station, up to £90 to £100 for a foreign station.
Life for midshipmen was hard, and to survive needed strength of character.  Bullying and 'pranks' were common place and there was no privacy to be had.  Not the place for a sensitive soul.
HMS 'Tonnant' boasted 12 midshipmen in 1805.  The eldest, William Chesnaugh was 3 years older than James, the youngest, Richard Langdon and John Marshall both 6 years younger than he.  Their homes were scattered, they came from as far afield as Devon and Shropshire, from Somerset to Norwich.
The midshipmen ate the same food as the men.  Their diet would be mostly boiled pork or beef, bread, butter, which after a period at sea might well be rancid, beer, oatmeal, cheese, dried peas and hard tack.  This would be supplemented by whatever the master's mate purchased when in port, each member of the mess paying in to the kitty each week.
After 1794 a first-class volunteer earned £9 a year, with £5 deducted for the schoolmaster.  A midshipman would earn between £2 and £2 15s 6d a month, depending on the class of ship.  Expenses for a volunteer would generally be between £30 and £40 per year, for a midshipman this rose to between £70 and £100.  Obviously expenses exceeded income, so it was essential that he should have private means.
Their income would be augmented by prize money paid by an Admiralty court after a captured enemy vessel reached a home port.  This prize money was distributed among all men serving on the victorious ship.
The share-out of prize-money is given below in its pre-1808 state, after 1808 the regulations were changed.
1/8 Flag Officer
2/8 Captain(s)
1/8 Captains of Marines, Lieutenants, Masters, Surgeons
1/8 Lieutenants of Marines, Secretary to Flag Officer, Principal Warrant Officers, Chaplains.
1/8 Midshipmen, Inferior Warrant Officers, Principal Warrant Officer's Mates, Marine Sergeants
2/8 The Rest
On board the 'Tonnant' James's duties would be varied and many.  They generally oversaw the men, ensuring that all tasks were done properly, from the lashing of hammocks to the furling sail aloft.  They carried messages for the lieutenants, commanded parties bringing in water, took charge of boats ferrying men and supplies between ship and shore, helped to take soundings and marked the ship's position on a chalkboard.
Combat was but one threat to the life of a midshipman, with disease and accident accounting for more fatalities.  Midshipman Lord Henry Lennox, the 14 year old son of the Duke of Richmond, fell to his death while furling sail aboard the 'Blake' in 1812.  During combat the midshipmen supervised the sailors with the rigging and sails and at the guns.  They could also be called upon to fight as marksmen or as part of a boarding party.  Despite the dangers to themselves, losses amongst their officers offered opportunities for promotion to the midshipmen, so action would be welcomed by young men keen to rise.
Well, there was action enough for even the most blood thirsty amongst the crew in this period.
In January 1804 Captain Sir Edward Pellew reported to the Admiralty on the growing French activity at Ferrol and Corunna in Spain, which was at the time nominally neutral.  HMS 'Tonnant' took part in the blockade of Ferrol, a leading naval centre in north western Spain.  On the 24th May Tonnant shared with the cutter Resolution in the capture of the Esperance and the Vigilant.  Then in the early days of June Tonnant, Mars and Spartiate captured the Dutch ships Coffee Baum and Maasulys, followed towards the end of August in the action to recapture the Lord Nelson.  Pellew received £1667 10s 2 ½ d in prize money, with a seaman receiving £2 14s 6 ½ d.
At the end of October Tonnant shared in the capture of the Perseverance, and then on 29th November Ardent destroyed the Bayonnoise with Tonnant being among the vessels sharing the bounty money.  In February 1804 Tonnant and the ships of Admiral Sir Robert Calder's squadron recaptured the brig Eliza.
Captain Sir Edward Pellew was promoted to Rear Admiral in 1804, and appointed Commander-in-Chief of the East Indies Station.  Tonnant was now under the command of Captain William Henry Jervis.
Captain Jervis was born William Henry Ricketts, and this was his name at the time of his marriage to Lady Elizabeth, daughter of the 6th Earl of Cavan.  Captain Jervis had been very active in Sir Sidney Smith's squadron until he was sent with despatches to the West Indies in 1796.  These despatched contained information of the probably rupture with Spain.
"At this period, a war with Spain was by no means certain; but the probability of that country being forced to coalesce with the French republic against Great Britain, was so strongly to prevailing opinion, that Captain Ricketts (as he was then) undertook to detain a valuable Spanish ship from Cadiz, bound to Vera Cruz, which he fell in with on his passage.  The declaration of war, which followed shortly after, proved this proceeding to have been well judged."
On 14th of February 1797 Captain Ricketts's uncle was raised to the peerage with the title Earl St Vincent.  On the 21st April, 1801 His Majesty was graciously pleased to renew his grant of the dignity of Viscount St Vincent of Meaford with remainder to Captain Ricketts, who soon after received royal license to use and take the surname of his illustrious relative. So from 1797 Captain Ricketts was known as Captain Jervis.
He took command of HMS 'Tonnant' in May, 1804, forming part of the Channel fleet cruising off Ferrol, Rochfort and Brest.  During the winter of 1804 in the Bay of Biscay the 'Tonnant' suffered much in a violent storm, her main-mast being severely damaged, and one man killed with ten wounded by lightning.
Following this storm it was discovered that the enemy squadron at Rochefort had escaped from the port.  Rear-admiral Sir Thomas Graves despatched the 'Tonnant' to the Channel fleet to apprise Vice-admiral Sir Charles Cotton of this news.  On 26th January 1805 Captain Jervis left the ship in one of the boats to proceed to the St. Joseph, the flag ship.  Unfortunately when she got about half way there the sea broke over the boat and capsized it.  Captain Jervis and another of the crew were drowned, despite every effort being made to save them.
On the 5th February 1805 command of 'Tonnant' was given to Captain Charles Tyler.
  Charles Tyler, born in Cavan, had joined HMS 'Barfleur' as a volunteer in 1771. From 1775 to 1778 he was Midshipman on HMS 'Preston', but on the 31 May 1778 he was discharged sick, and on the 30th September 1778 he was discharged 'unserviceable' to the New York hospital.  However, no keeping a good man down, and in April 1779 he made Lieutenant aboard HMS 'Culloden', rising through Commander and Captain of various ships until we see him on board the 'Tonnant'.
He worked his ship and men hard, and Admiral of the Fleet Sir George Sartorius, who was midshipman in the 'Tonnant' at Trafalgar, attributed the ship's success over the 'Algesiras' entirely to superior gunnery.
" She (the Tonnant)" he says, " was one of the very few, perhaps
one of the four or five, that had been constantly exercised at her guns.
At the battle of Trafalgar a line-of-battle ship ran alongside us, her
yard got entangled with our main rigging, and in the course of six-
and-thirty minutes, from the extreme rapidity of our firing we
managed to knock away all her masts, and to kill and wound 436 of
her men. Had we not been well exercised at our guns, I think the
Frenchman would have got the advantage of us. We had actually our
engine playing on her broadside to put out the fire caused by the
flame of our guns."
But we're getting ahead of ourselves.  Trafalgar beckons, but that story will be the subject of the next blog.
TSL Gift Vouchers still available – a great gift for any friend or family member interested in their family history. We can help read old documents, look up documents at Kew, translate from Latin, French, Dutch and Spanish, undertake family history research. Vouchers available for any amount from £5.
They have been filming scenes for a new period drama on the Isle of Man in the last week or two.  The film, 'Belle', is based on the true story of Dido Elizabeth Belle, who was born around 1761 the daughter of John Lindsay, nephew to the Earl of Mansfield, and a slave woman in the West Indies.
Lindsay was a Captain on HMS Trent, a warship based in the West Indies.  He sent his young daughter back to England to the care of his uncle who lived with his family at Kenwood House, Hampstead.  There Dido was brought up as a companion to the Earl's daughter Elizabeth, who was about the same age.
It must have been a very strange life for the young girl, who was both illegitimate and the daughter of a slave.   She was not allowed to dine with the family, especially if they had guests, but would join the ladies after the meal in the drawing room.   As she grew up she took on the management of the dairy and poultry yards at Kenwood House, and also helped the Earl with his correspondence.  She was paid an annual allowance of £30 10s, which was considerably more than that received by the domestic servants, though much less than the heiress Elizabeth, who received £100.
Her father, John, died in 1788, leaving bequests for two further illegitimate children, but making no mention in his Will of Dido.  In his Will, the Earl of Mansfield left her £500 and an annuity of £100, and confirmed her freedom.  9 months after the death of the Earl Dido married John Davinier, and the couple had at least three children.  When her youngest son, William Thomas, was only 2 years old Dido died, and was buried in St George's Field.
The Earl of Mansfield held the position of Lord Chief Justice of England and Wales, and as such in his judgment in a case of a runaway slave said "The state of slavery is of such a nature, that it is incapable of being introduced on any reasons, moral or political; but only positive law, which preserves its force long after the reasons, occasion, and time itself from whence it was created, is erased from memory: it's so odious, that nothing can be suffered to support it but positive law. Whatever inconveniences, therefore, may follow from a decision, I cannot say this case is allowed or approved by the law of England."  At the date of this trial, 1772, the 11 year old Dido was living in his home.  I wonder if his stance on slavery resulted from having seen this little girl grow up, or whether he was prepared to have her in his house, almost part of the family, because of his principles.
I have only recently stumbled upon the Henry III Fine Rolls project, and what an amazing work it is.  Started in 2005 and funded by the Arts and Humanities Research Council the project is making available to everyone what had previously only been accessible to a very few, and opening up primary source material of a fascinating period in English history, from 1216 to 1272, from Magna Carta to the development of the parliamentary state.
The project can be found at
http://www.finerollshenry3.org.uk
and the blog is at
http://blogs.cch.kcl.ac.uk/frh3/
both sites are fascinating and I look forward to following the blog over the coming months/years.
But when I first happened on the site serendipity brought me to:
Fine Roll C 60/9, 2 HENRY III (1217–1218)
and in particular to membrane 8, where reading down the page I came across this:
"[No date]. Yorkshire. Cumberland. Nicholas de Stuteville has made fine by 1000 m. for his ransom, to be rendered at four terms, namely 250 m. at mid-Lent in the second year, 250 m. at Pentecost following, 250 m. at St. Peter in Chains and 250 m. at Martinmas in the third year, namely so that if he does not keep the first term, he has bound his manors of Kirkbymoorside and Liddel under this form, that if he does not keep the first term, 50 librates of land are to be forfeited from the said manors. Similarly, if he does not keep the second term, 50 librates of land are to be forfeited from the same manors. Similarly, if he does not keep the third term, 50 librates of land are to be forfeited in the same manors. Similarly, if he does not keep to the fourth term, 50 librates of land are to be forfeited in the same manors. If the said two manors do not suffice to make good 200 librates of land, he will supplement the default from his other manors. Robert de Stuteville and Walter of Sowerby have mainperned for this fine in that if he does not keep a term, all of their lands are to be forfeited."
Now this sparked my curiosity, who was Nicholas de Stuteville and why was he being ransomed for 1000 marks, a huge sum.  I did various internet searches and found plenty of sites that mention Nicholas, and many and varied dates of his demise, but none of them actually mention him being ransomed.  For this I should have stuck to the Fine Roll project, for there, in the 'Fine of the Month' for May 2007 all is revealed.  Nicholas had been amongst the barons who had forced the Magna Carta on King John, Henry III's father.  John reneged on the charter in late summer of 1215 and the barons offered the throne to Louis, eldest son of the King of France.
John died in October 1216 by which time Louis had control of over half the kingdom.  Young Henry, aged just 9, was facing a very short reign indeed.  Louis supporters and Henry's met at the Battle of Lincoln in May 1217, where the young King's forces shattered those of Louis.  By the end of the year the war was ended and Henry was secure.  Had things gone otherwise at Lincoln England and France would have been united under French rule, and who knows how the future would have developed.
Henry's forces at Lincoln were led by William Marshal, earl of Pembroke, a man who seems to have carried his seventy years lightly.  During this battle William captured Nicholas de Stuteville, and it was with William Marshal that the fine (an agreement for payment) was made, though very unusually this is not made clear in the fine rolls, and is only clarified in a royal letter of 1224.  The ransom was indeed a huge sum of money, a rough equivalent of £6.6 million.  How much of this ransom William received is unclear, following his death in 1219 there were further entries into fine rolls which had the effect of requiring Nicholas to pay the fine twice.  However this was protested before the King and council and Nicholas succeeded in having the second fine removed from the rolls of the exchequer.
The tale is given in far more detail on the websites I mention above.  I've enjoyed dipping my toe into this small pool of history, and have learnt a great deal.
The Egypt Exploration Society and Oxford University have launched a joint project in which they hope to recruit help with transcription of some of the many papyri found during excavation of the the site at Oxyrhynchus, which translates as the "City of the Sharp-Nosed Fish".
The papyri were found during excavation of the site in 1896 by Bernard Grenfell and Arthur Hunt, both Fellows of Queens College, Oxford. 
A huge number of documents and scraps of documents were recovered from what appears to have been a rubbish dump.  The city was built with a series of canals, but as the water table lowered the 'dump' became buried in the sands, preserving these fascinating artefacts.
Many of these papyri have not been look at since the day they were recovered from the site, but have been kept in storage waiting for someone to unlock their treasures.  Now Oxford University are asking members of the public to collaborate in transcription of some of these documents which have been scanned and entered into an interactive database.   Visitors to the website (http://ancientlives.org/) will find they are presented with an image of an extract of a scanned papyrus.  They can then click on a character on that image and link it with a corresponding Greek character at the bottom of the screen, thus piecing together character by character the words on the page.
This looks to be a fascinating project, with papyri already yielding up a note from a sausage maker, an anatomy of the eye and a re-telling of the Trojan war story.  Each contribution may only be very small, but working together this project may well present scholars and the interested general public with an insight into all manner of aspects of life in Egypt under Greek and Roman settlers.
One of the most enjoyable aspects of my work transcribing old documents, and in particular wills, is the variety that are encountered;  variety of script certainly, but also variety of style.  Sometimes when working on a will I get a picture in my head of the person behind it.  There are some that remind me strongly of Sir Walter Elliott in Jane Austen's Persuasion, a man very full of his own importance.  The flowery hyperbole and inordinate length of their wills flatter the pretensions of what sometimes appears to me to be a small mind.  I have to wonder too whether they are being duped by lawyers or clerks paid on a per word basis.  Others are brief, terse and matter of fact, either with little to be bequeathed or the bequests dealt with efficiently.  And then there are the occasional gems, the wills that open the door and invite you in with descriptions of objects, and sometimes even of the rooms in which they are to be found.
We recently worked on one such gem, from the fourth year of the reign of James 1st (1606).  This was the will of a maiden aunt with no land or buildings to bequeath, but a lady who took care in the bestowal of her money and personal effects.  Through her will I felt Frances beckoning me from her sick bed.
Frances was a spinster, 'sicke in bodie but of good and perfect remembrance' .  There is no indication of her age, or her ailment, but the will was not proved until two and a half years after she wrote it.  I wonder did she linger in illness for those years, or did she recover from whatever illness troubled her and succumb to a second illness later?  Whatever the case she would have been aware of the uncertainties of life and the need to set her house in order and have her wishes noted down in good time.
She begins by making a contribution to the poor of the parish, half now, half on Christmas Day, and a generous sum to the vicar for his sermon at her funeral;  no doubt he had was equally kind to her when called upon to deliver his sermon.   She also makes provision for a donation towards the costs of repairing the old stone bridge and the house on top of it, a good citizen of her community helping with the burden of keeping communal assets in good condition.
Then as a devoted aunt she turns her thoughts to her nephews, two  specified as minors for whom the money is to be 'put out' by their respective fathers 'for him to the best use during his minority'.  The third nephew's portion is to be kept for him for when he 'comes out of his yeares of Apprentiship.'   Her niece is also remembered, though with a much smaller bequest, but still 10 shillings 'for her own use' will have been very welcome to a young girl in those days I imagine.
Her brothers each get 10 shillings with which to have made a ring by which to remember her.  The practice of bequeathing a ring for remembrance was known from the Middle Ages, and by the seventeenth century it had become customary to engrave rings with the name and the dates of the deceased, with the decorative design on a ground of black enamel. People would leave instructions in their wills for specific sums of money to be used by the executors to buy rings, and the recipients would be named.
© Trustees of the British Museum
example of a mourning ring from the collection of the British Museum
What makes Frances so special is the detail she gives of the items she bequeaths to her sisters/sisters in law.  We can stand by her bedside where she is sitting in her bed, propped up against the bolsters peering myopically around the room while she looks at her possessions and decides which member of her family should have them.
"Let's start with my sister in law Mary.  She is to have two smocks, two bands, one black coif wrought with rosemary stitch, one petticoat (that one there with the three white laces) and the gown that I used of late to wear on a Sunday.  Oh she'd better have the kirtle which is worn with that gown too.
Now then for Elizabeth, oh yes, she shall have 10 shillings to have a ring made, but she can have the new petticoat that's being made at the moment at the tailor's, and the best smock, six night 'Rayles', the blackwork stomacher and the gloves that were a present to me from my dear friend.
Mary my sister, she too shall have 10 shillings for a ring, and she shall have the new gown that is being made at the tailor's and the black coif wrought with pearl stitch."
So let's see what these articles might have looked like….
smock – also called a shift.  This innermost layer of clothing, worn by all women of all classes, was a basic undergarment worn to protect outer clothing from sweat and body oils.
some are cut close to the body with a low, square neck and close-fitting, ungathered sleeves.  Others have puffy sleeves gathered to cuffs and a body gathered to a close-fitting neckband.
kirtle – one piece underdress
bands – ???
coif – A coif is a close fitting cap that covers the top, back, and sides of the head.  They were often beautifully ornamented with embroidery.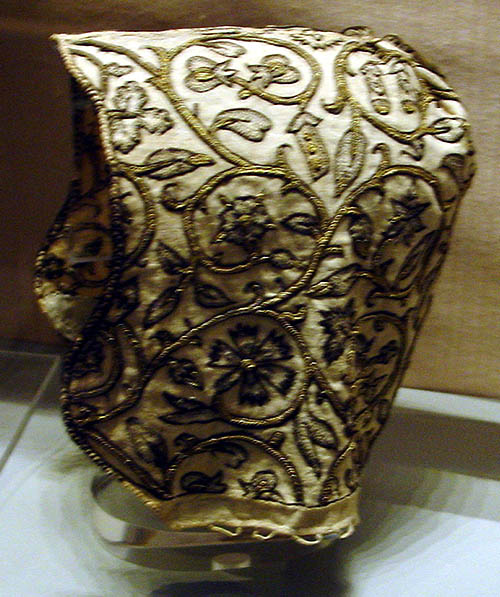 http://www.elizabethancostume.net/headwear/coifpics.html
In Frances' case she had two to give to her sisters, one worked in rosemary stitch and the other with pearl stitch.
<—< examples of rosemary stitch
petticoat – The word "petticoat" was a very all-encompassing term during Elizabethan times. It could signify an underskirt worn for warmth, for decorative purposes, to add bulk underneath the kirtle or outer skirts, or all three.  In the earlier 16th century it also referred to a type of jacket worn by men (and women) for warmth, adding to the confusion.
Petticoats became more popular during the 1580s and 1590s.  During Tudor & early Elizabethan times, the kirtle –an underdress with a flaring skirt– served the same purpose as a petticoat, but as skirts became wider and more gathered at the top, gathered petticoats were more often worn.
night rayle – The equivalent to the modern night gown
stomacher – A decorated triangular panel that fills in the front opening of a woman's gown or bodice.  The stomacher may be boned, as part of a corset, or may cover the triangular front of a corset.  If simply decorative, the stomacher lies over the triangular front panel of the stays, being either stitched or pinned into place, or held in place by the lacings of the gown's bodice.
Nicholas Hilliard's Unknow Woman wears a cutwork cartwheel ruff.
Her stomacher and wired heart-shaped coif are decorated with blackwork embroidery, 1585–90
 English woman wears a fashion seen in many formal portraits of Puritan women in the 1590s, characterized by a black gown worn with a blackwork stomacher and a small French farthingale or half-roll, with a fine linen ruff and moderate use of lace and other trim.  She wears a tall black hat called a capotain over a sheer linen cap and simple jewelry.
Blackwork embroidery is a very old form of counted-thread embroidery.  Because many of the designs are geometric it is most often stitched on an even-weave fabric.  Despite the name "Blackwork" it was also done in blue, green, gold or silver.  Linen or cotton was the primary fabrics since the original purpose of Blackwork was for costume adornment.
By the time of her death Frances' new gown and petticoat 'at the Taylors' would have had some wear, and perhaps she was no longer wont to wear that gown of a Sunday, but we leave her now with thanks for the detail she gave us and for opening a window into the past.
For anyone interested in looking further at clothing of the period I found these two websites well presented and useful.
http://www.tudorlinks.com/textiles.html
http://www.elizabethancostume.net/bath/index.html
© Linda Watson 2011
Relics from the tomb of the medieval King Richard II have been found by an archivist researching the papers of the National Portrait Gallery's first director George Scharf.
Among hundreds of diaries and notebooks left in boxes not opened for years were contents from the coffin of the ill-fated monarch and sketches of his skull and bones.
The contents of a cigarette box dated August 31, 1871 were only identified as relics from a royal tomb when it was possible to cross reference the date on the box with diary entries and sketches made on the same day.
The box contained fragments of wood possibly from the coffin itself and some fabric.
Records from this date show Scharf was present at an opening of the royal graves at Westminster Abbey, and a piece of leather corresponds with his sketch of a glove contained in the coffin.
According to the National Portrait Gallery, a full account of the event was recorded by the Very Reverend Arthur Stanley, Dean of Westminster. His account was published in 1879.
Scharf, who also witnessed the opening of the graves of Richard II, Edward VI, Henry VII, James I and Elizabeth of York, made careful sketches of Richard II's skull and bones, including detailed measurements.
"It was a very exciting discovery and one that reveals the hidden potential of Scharf's papers," said Krzysztof Adamiec, National Portrait Gallery assistant archivist who was working on the Scharf papers.
The gallery said that King Richard II's tomb was opened in 1871 for cleaning, and that so many individuals were present at the event probably because they wanted to determine whether the king was killed by the blow of an axe.
The skull showed no evidence of this, however.
Richard II ruled from 1377 to 1399 when he was succeeded by Henry IV. Many historians believed he died of starvation while in captivity in 1400.
The National Portrait Gallery have completed the project undertaken to catalogue the papers of George Scharf and this catalogue, running to some 524 records, is available online at  http://bit.ly/fwiOh1
The Scharf papers are one of the most significant collections held in the National Portrait Gallery's Heinz Archive & Library and they comprise business, personal and family records. The huge range of material – diaries, letters, research notes, notebooks and sketchbooks, tracings and printed material, reflect not only the history of the Gallery, but also the wider social history of Victorian England.
The records he bequeathed to the Gallery are also an exceptional resource for the study of portraits and portraiture.  Scharf was educated as a draughtsman and art historian, and portraits and portraiture became an essential part of his career. In 1857, he became Secretary of the newly founded National Portrait Gallery. One of his most important duties in this role was picture research, which involved identifying genuine works of art of suitable significance for acquisition by the Gallery.
When transcribing old wills at Transcription Services Ltd (TSL)  my colleagues and I frequently come across amounts of money bequeathed and the denominations used are not always well known coins.  So I thought it might be useful to write a little bit about old British coin denominations.
As a unit of currency, the term pound originates from the value of one pound Tower weight of high purity silver known as sterling silver. Sterling silver is an alloy containing 92.5% pure silver and 7.5% other metals, usually copper. The word sterling is believed to come from the Old Norman French esterlin (meaning little star), the name of a silver coin, with reference to the little star on some of the mintages
The pre-decimalisation currency was £ s d – pounds, shillings and pence which denominations come from the Roman librae, solidi, denarii (libra was the basic unit of weight; solidus and denariuswere Roman coins). 
 
farthing (the lowest value coin) = 1/4 penny
halfpenny (ha'penny) = 1/2 penny
penny (1d)= the smallest currency unit
threepence (thruppenny bit) = 3 pence
groat = 4 pence
sixpence (tanner) = 6 pence
shilling (1s) = 12 pence
florin = 2 shillings
half-crown = 2 shillings and 6 pence = 1/8 pound
crown = 5 shillings = 1/4 pound
soverign = 1 pound = £1 = 12 shillings = 240 pence (about .24 ounces of 22 carat gold)
guinea = 1 pound and 1 shilling
 
The smallest unit of currency was and still is a penny, the plural of which was pence (orpennies). There were 12 pence in a shilling and 20 shillings in a pound. The pound was a gold coin, properly called a sovereign, or a paper banknote.
In medieval times, if change smaller than a penny was needed, it had become common to divide the silver penny into two halves, or four quarters. This could have been called halving and fourthing and the name farthing is derived from fourthing or feorling. The cross on the reverse of silver pennies helped make it easier to cut pennies for change.
Although a round halfpenny had been issued as early as 886 for Alfred the Great, and they continued to be produced under most monarchs, they were never issued in large quantities. The first round silver farthing was issued from 1279 under Edward I and during his reign the silver groat was issued for the first time. Farthings continued to be produced in small quantities for most monarchs up to Edward VI in about 1553, when the last silver farthing was produced.
In much later times the penny, halfpenny and farthing were called coppers, denoting the copper or bronze from which they were made.

The name crown comes from the French gold couronne, the denier à la couronne, issued by Philip of Valois about 1339, which featured as its obverse design a large crown; and the écu à la couronne issued by Charles VI of France about 1384, which had a shield surmounted by a crown.

The first crown (that of the double rose) of Henry VIII had a reverse similar design to the "ecu d'or au soleil", a shield topped by a large crown, and for its obverse, had a double rose also topped by a large crown. This was a gold coin with a value of five shillings.
The guinea, first issued as a coin on February 6th, 1663, was also commonly used as a unit of account. The guinea was a gold coin, first made using gold from the Guinea coast of Africa, worth 21 shillings (1pound 1 shilling) in old British money. A guinea was considered a more gentlemanly amount than £1. A gentleman paid his tailor in shillings, but his barrister in guineas.


A slang term for a shilling was 'bob' and for a guinea – 'yellow-boy'.
Other slang terms:Fiver = £5, Lady Godiva (Cockney rhyming slang for a fiver) = £5, Tenner = £10, Pony = £25, Half a ton = £50, Ton = £100, Monkey= £500, Grand = £1000.
Although it never existed in England as a coin, the mark was widely used as a unit of money of account, equal to 13s 4d (i.e. 2/3 of £1).  In account books, probate inventories, etc an amount in money could appear written e.g. as "5 marks" but more often the 5 marks would be written as the currency equivalent, £3 6s 8d.  This is the reason so many inventory valuations end in either 6s 8d (1/2 mark) or 13s 4d (1 mark). Only accountants could have devised such a system, but one reason it survived so long is that 6s 8d (1/2 mark) was often used as the standard professional fee.
Although the mark did not exist as a coin in England,  the gold noble when first issued under Edward III in 1344-46 was valued at 6s 8d (= 1/2 mark), later increased to 8s 4d. The gold angel when introduced under Edward IV in 1464-70 was also worth 6s 8d, but the value of all gold coins tended to change over time.
The Ryal was an English gold coin of 15 shillings, issued under both Mary (1553-1554) and Elizabeth I (1558-1603), a development from an earlier 10 shilling Ryal or Rose Noble first minted under Edward IV in 1465.  There was also an half ryal during Edward IV's reign worth 5 shillings.
The gold coin presently known to numismatists as a Spur-Ryal was minted during James I's second coinage (1604-19) and third coinage (1619-25).  Initially it had a value of 15shillings but, as with all gold coins, in 1612 its value was raised by 10% to 16s 6d.  It appears the term Spur-Ryal was already in use as a nickname for the Ryal under Elizabeth, at an earlier date than numismatists would have us believe, as at TSL we have seen it mentioned in an English Will of 1581.  The name derives from the "rose on a sun" design that appears on the reverse of these coins, this having the appearance of the "wheel" of a horse-rider's spur, such as is shown in this detail from a 15th century monumental brass at Barsham in Suffolk:
1550 and the reign of Edward VI saw the issue of the fine sovereign worth £1 10 shillings.
The broad was a new denomination of coin issued only in the single year 1656 for Oliver Cromwell. It had a value of twenty shillings, replacing the gold unite, and could also be considered as the model and forerunner of the gold guinea, and eventually the gold sovereign.
The time of Edward III saw the issue of a coin to the value of 1 shilling known as a leopard,  a double leopard worth 2 shillings, and a helm was worth 6 pence.  Edward IV's reign saw the introduction of the angel, a coin worth 6 shillings and 8 pence, and the half angel (angelet) worth, reasonably enough, 3 shillings and 4 pence.
The gold sovereign came into existence in 1489 under King Henry VII.  The pound sterling had been a unit of account for centuries, as had the mark. Now for the first time a coin denomination was issued with a value of one pound sterling.  The obverse design showed the King seated facing on a throne, a very majestic image. It is from this image of the monarch or sovereign that the new coin gained its name – the sovereign. The reverse type is a shield on a large double Tudor rose.
Under Henry VII the testoon worth 1 shilling was struck, also a double sovereign of the value of £2. In the reign of James I a double crown, 10 shillings, was issued.  Queen Victoria's reign brought the florin, value two shillings (an early attempt at decimal currency, being 1/10 of a pound) and the double florin, 4 shillings in value.
A halfcrown was first issued in the reign of Henry VIII, as a gold coin.  Further gold halfcrowns were produced during the  reigns of Edward VI, Elizabeth I, James I and Charles I.  The first silver halfcrowns were struck under Edward VI in 1551, these being one of the first British coins to bear a date.
© Linda Watson 2011
There's some really good news for those with an interest in Ireland, genealogists, historians and simply those with a fondness for the country.  There's a new website just up and running which "contains information about archival collections open for public research in Ireland.   Its purpose is to aid researchers in finding collections relevant to their studies."  Some of the collections featured include the Irish Film Archive, the Guinness family archives, archives from UCC's Boole Library and a large number of city and county council archives.
This site will become the repository of archive collections from around the country, and will make available to us all documents which hitherto will only have been available to a handful of people.  Given the parlous state of Ireland's financial situation at the moment we must all be very grateful that the state has funded archiving in the recent past and that this source has become available.
There's a good article about it at
http://www.thejournal.ie/irelands-archive-collections-go-online-2011-3/
and the site itself is at
"Brian McGee, archivist at the Cork City and County Archives, says one of his personal favourite archives referenced on the site is a recent collection of deeds on properties in Cork city dating back to the 16th and 17th centuries. These deeds were found lying in a skip in the Netherlands."   Wouldn't you love to know the story of these deeds, how they travelled from Cork to that skip in the Netherlands?  I know I would.
Perhaps Transcription Services Ltd will be called upon at some time in the future to transcribe some of these documents.